+91 9994521375

+91 8220004322

info@mindway.in

PSD - XHTML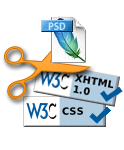 Mindway systems specializes in PSD to HTML Conversion and PSD to XHTML Conversion. We have a talented team of experienced developers who just need the source files in any common format (PSD, PNG, AI etc.) or even HTML, the existing markup. The result you will receive will be high-quality cross-browser compatible W3C Valid XHTML / CSS markup. We support the following markup specifications:

* W3C Valid XHTML 1.0 Strict
* W3C Valid XHTML 1.0 Transitional
* W3C Valid HTML 4.01

The design plays an important role in the process of website creation. It is the visual that attracts the user instantly and get them to browse the complete website. A great design can sometimes mean nothing if the coding is not done right to back it up. With a number of browsers in the industry coding has become an essential component to create a good usable website. The code needs to be standard compliant and the developers should have the knowledge and the experience to have them validate while keeping the look and feel compatible to the major browsers. Mindway systems with its experience guarantee the results within the required time frame so that while you care of your business we take care of your development requirements.

The following points summarize our strict quality guidelines and the steps we take to Convert Design to CSS/ HTML/ XHTML :

* We work hard and get into the details to ensure that markup looks exactly same as the given design.
* Guarantee Cross Browser Compatibility with different Operating Systems
* Description of CSS classes and images relevant to their sense/ content.
* Provide Alternative text for all images
* Page titles relevant to the content on the page
* XHTML code is based on SEO Semantic features.
* Helps the search engines to update your website timely and provide the due importance and the all important rankings to your coded pages.
* W3C validated XHTML/ CSS coding.